Shawn experiences one awkward date after another until he encounters the alluring Violet. He asks her out, but his autism keeps him from realizing that she's actually a prostitute. Drawn in by his kindness, Violet appreciates Shawn's quirkiness but hides what she does after dark. Shawn imagines Violet could be his soulmate, while Violet thinks Shawn could be her ticket to a new life.
The Sound of Violet is a romantic comedy based on the acclaimed novel, and helps audiences see autism and human trafficking through a new lens. The movie will be available on video-on-demand starting November 15.

Shawn
A computer programmer for a dating website he hoped would help him meet that special someone, but it hasn't quite worked out that way. What he lacks in social skills, he makes up for in heart. Shawn is a neurodiverse character portrayed by Jason Treviño in his feature film debut. Jason received his MFA from the Professional Actor Training Program at the University of Washington and is originally from Houston. Jason is thankful for the input of Tom, who is autistic and was in charge of all the camera footage for The Sound of Violet. Tom advised Jason on his portrayal of Shawn's autistic character. Jason is himself neurodiverse, and his own mother was a victim of trafficking, so he has been passionate about telling the story of The Sound of Violet.
Violet
She ran away when she was young and had been dealing with the consequences ever since. She had never imagined her life would have turned out the way it did, but she keeps pushing onward, knowing she doesn't have any other choice but to do what her pimp tells her to do. Cora Cleary portrays Violet in her feature film debut. Cora's passion as an actress is to create meaningful entertainment pieces that spread awareness on social issues, hopefully making some laughs along the way. Originally from Snoqualmie, Washington, Cora now lives in Los Angeles.
Colin
Shawn's brother. A very protective older brother. He works at Shawn's favorite coffee shop and wants the best for Shawn, even though he sometimes gets in the way of that happening. Colin is portrayed by Kaelon Christopher who began his acting career at age 9 with industrial short films and regional commercials. He has worked steadily in film and television ever since.

Ruth
The matriarch of the family, Ruth loves painting and making sure Shawn stays out of trouble. When she first meets Violet, she suspects she's after Shawn for the wrong reasons. Jan D'Arcy portrays Ruth. Jan has worked with world-renowned directors and filmmakers, including David Lynch, Gore Verbinski, and Frank Marshall. She had a recurring role in the Emmy-nominated TV series Twin Peaks and Twin Peaks – The Return. and has appeared in over 1,000 radio and TV commercials.
Douglas
Douglas is the doorman for Ruth's building who also handles security. He has long had affection for Ruth's family and may or may not have even more love for Ruth. Malcolm J. West portrays Douglas. Malcolm is a veteran stage actor since 1973 after studying drama at the University of Washington. He has appeared in numerous stage shows and films and has won accolades for his work.

Allen Wolf | Writer, Director, Producer
I love telling stories, whether it's through my movies, novels, or the games I've created. I also enjoy hosting the Navigating Hollywood podcast where I interview entertainment professionals about their career and life journeys.
I first started writing The Sound of Violet after experiencing the ups and downs of dating in Los Angeles. While I crafted the story, I learned about the challenges neurodiverse people can often face with social interactions and communication. I realized how much that described the obstacles for my main character Shawn.
I wanted Shawn to pursue someone who has her own challenges, which led me to create Violet. At first, I created her as the "empowered prostitute," which I had seen in many movies. But as I researched her character, I discovered the realities of human trafficking and wanted to portray her closer to that reality. I consulted with several organizations that help victims of trafficking and eventually crafted the story into a novel. The Sound of Violet novel was well received and won a number of awards, so I assembled a team of people to turn the book into this movie.
In My Sleep, my previous movie, is a psychological thriller, and before that, I created Harlem Grace, a film about a man who graduates from Harvard to start a homeless shelter. I studied filmmaking at New York University and live with my wife and family in Los Angeles.
Chris Joseph Taylor | Director of Photography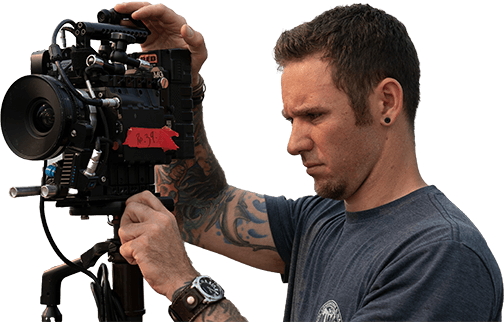 I began my career shooting an M16 in the military before taking shots as a camera jockey, producing documentaries for the U.S. Marine Corps. As the film bug started munching away, I left the military to pursue a less conservative career path in a more creative industry and soon earned my film degree at the Art Institute of Seattle. Influenced heavily by the lighting side of visual storytelling, I was brought up through the ranks as a gaffer as well as a cinematographer and editor. I also own a hot dog stand.
Conrad Pope | Composer
I'm passionate about being an imaginative musical dramatist and contributing a meaningful dimension to a film's story: the music, the emotional core of every movie. My music has ranged over the entire cinematic spectrum, and I've worked closely with Allen to create an orchestral score that brings to life the story of The Sound of Violet.
I've contributed to more than a hundred movies, working on films of every genre and budget, making scores that work in almost every style. I previously worked with Allen to create the score for In My Sleep. The scores I've contributed to included Mank, Isle of Dogs, The Secret Life of Pets, The Hobbit movies, Godzilla, Harry Potter movies, and more. I'm committed to telling a film's story with persuasive and compelling music, and I hope you enjoy the score I created for The Sound of Violet.


Here's what reviewers say about the story:
"A Very Sweet and Endearing Romantic Comedy"
"A very sweet and endearing romantic comedy with an excellent relationship between Violet and Shawn at the center." – THE BLACK LIST
"Superb Characters, Strong Dialogue."
"A rewardingly nuanced, three-dimensional, and charming– if unconventional–love story. Strong character voices define the entirety of the plot, while the genuine chemistry between the central roles creates a natural, seemingly effortless appeal within both their relationships and their perspectives in broader terms … Superb characters, strong dialogue, and a polished overall execution wind up rendering a finished product that seems in many ways both moving and entertaining." – SCRIPT SHARK
"Incredible Characters and Story"
– CINEQUEST FILM FESTIVAL
"Achieves the Rare Feat of Being Both Funny and Romantic."
"The Sound of Violet is a fluently written romantic comedy that both acknowledges and deviates from the conventions in a sparky, original manner … While this set up might seem wildly implausible at first glance, it's established in a very organic way, with warmth, intelligence and wit – three qualities that characterize the rest of the screenplay … Achieves the rare feat of being both funny and romantic, delivering an emotionally satisfying ending to Violet and Shawn's misadventures, without patronizing the audience." – BLUECAT SCREENPLAY COMPETITION
"A Lot of Heart, Poignancy and Charm."
– COVERAGE INK
"A Sweet, Touching Story."
"The Sound of Violet is a sweet, touching story that works to bring out the best in people, using autism as a backdrop." – TRACKING BOARD